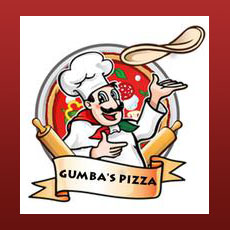 Coupons and Vouchers not accepted for Online Orders (groupon, restaurant.com, local radio station certificates, press pass, etc...)
Head over to our Facebook page and give us a "Like." Bring in a printed screenshot of your like and you'll get a 1/2 lb. of wings for free!
Gumbas Pizza
Gumba's Pizza has established a reputation for providing highest quality food, excellent customer service and speedy delivery to customers in the Pittston area, always at the lowest possible price too. We can promise satisfaction because all dishes at Gumba's Pizza are freshly prepared every day with premium ingredients. Select your favorite Pizza, Pasta dishes directly from the menu for delivery or takeout. We are on the corner of the Pittston bypass and Williams Street.
96%
of 174 customers recommended

Hours of Business

Monday - Thursday

10:00 AM - 9:00 PM

Mo,Tu,We,Th 10:00-21:00

Friday and Saturday

10:00 AM - 10:00 PM

Fr,Sa 10:00-22:00

American,Italian,Pizza,Salads,Subs,Wings,Wraps,Pasta,Hoagies,Calzones,Soup